Residency in Pediatric Dentistry
Program Overview from Randall Ball, DDS, MS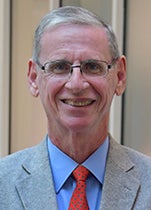 The Residency in Pediatric Dentistry at the East Carolina University School of Dental Medicine is a fully accredited program that prepares graduates to provide oral health care to infants, children, adolescents and those with special health care needs. The program is designed to prepare the resident to function as both a primary care and specialty provider in outpatient, hospital and community settings. In addition to clinical training, the resident will participate in community service and advocacy activities. The residency is fully accredited by the American Dental Association's Commission on Dental Accreditation, and graduates are eligible to sit for the Qualifying and the Oral Clinical Examinations of the American Board of Pediatric Dentistry.
For further information please contact:
Randall Ball, DDS, MS, Program Director in Pediatric Dentistry
Or
Ms. Meredith Bullock, Program Coordinator, Residency in Pediatric Dentistry
bullockme16@ecu.edu
Application Process
Three residents are accepted each year and all applications must be submitted through PASS (American Dental Education Association Postdoctoral Application Support Service, https://www.adea.org/pass/).  The program participates in the National Matching Service Postdoctoral Dental Matching Program (https://natmatch.com/dentres/) for all positions.
Requirements for Admission:
Graduate of an ADA accredited dental school
US or Canadian citizen, or lawful permanent resident of the US
Dental license or Intern Permit to practice in North Carolina
Completion of an application through PASS
Personal Interview
Participation in Match
Background checks will be required of all residents admitted to the program
Program Requirements
Residents must complete 24 months of training and satisfy all program requirements to receive their certificate. The requirements for the certificate include but are not limited to:
Meeting the minimum requirement of 24 months of training
Successful completion of all academic requirements
Successful completion of all off-service rotations
Participation in any required community service projects
Positive evaluations from all attending faculty and off-service rotations
Providing responsible care while on call
Punctual attendance and participation in all clinical assignments, didactic seminars, off-service rotations, literature reviews and patient care presentations
Completion of the research project requirement, including a formal presentation
Returning any ECU property (computers, keys, instruments, etc.) that have been issued
Reconciliation of any outstanding financial obligations to the School of Dental Medicine or East Carolina University
Curriculum
Didactic Curriculum in Pediatric Dentistry
The didactic curriculum which covers a wide variety of topics related to pediatric dentistry is presented in a seminar-based format that stresses resident preparation and interaction in an active learning environment.  While there are no formal courses, residents receive formative and summative evaluations to help guide them and to provide program quality assurance.  Topics related to pediatric dentistry may be facilitated by faculty members from the Division of Pediatric Dentistry, faculty from the School of Dental Medicine or by outside experts in their field.
In addition to the seminar series in pediatric dentistry, residents are also required to participate in Current Literature Review and Case Presentations. Current Literature Review gives the resident the opportunity to read, analyze and discuss recently published papers in a seminar style format with residents and faculty. Care Presentations are designed to enable the resident to effectively communicate with their colleagues and other health professionals. This is essential in contemporary pediatric dental practice. The resident will collect, synthesize and present patient information in a professional manner.
Clinical Curriculum
The Residency in Pediatric Dentistry is based in Ross Hall at the ECU School of Dental Medicine in Greenville, North Carolina. In addition to routine pediatric dentistry at Ross Hall, residents will also provide advanced behavior management techniques such as moderate sedation under faculty supervision.
Orthodontics
The didactic and clinical orthodontics program allows residents to gain knowledge and experiences in recognizing, diagnosing and treating malocclusions with emphasis on managing the developing dentition. Separate seminar series exist for first and second year residents with a combined clinic session each week.
Anesthesiology
Each resident is required to complete a rotation in anesthesiology that is four weeks in length. While on rotation, attendance in the Department of Anesthesiology will be the resident's principal activity with the goal of this rotation being to provide the resident with knowledge and experience in managing infants, children and adolescents undergoing general anesthesia.
Pediatric Medicine
Each resident will complete a two-week rotation in pediatric medicine during which time this will be the resident's principal activity. Rotations to specific clinics may vary but this rotation is intended to give the resident experiences in the medical care of children. The goal of this rotation is to give the resident clinical exposure to children being treated in settings such as the Emergency Department, subspecialty clinics, multidisciplinary clinics and general pediatrics.
About the sites where residents gain patient care experiences
Ross Hall: The Pediatric Dental Resident Clinic in Ross Hall is a modern dental facility consisting of six individual operatories. All of the operatories have intraoral imaging and nitrous oxide/oxygen capabilities. Also, within the department are laboratory facilities, panoramic and cephalometric machines and an instrument/supply dispensary.
ECU Health Medical Center: This is a full-service hospital with a Level I trauma center, separate pediatric emergency department and capabilities of managing medically compromised children under general anesthesia. Residents provide on-call and consultation services and operating room services at this location. ECU Health Medical Center is located less than a mile from the School of Dental Medicine.
ECU Health SurgiCenter: A modern, outpatient surgery center that is approximately 1 mile from the School of Dental Medicine. This facility provides the resident with the opportunity to treat ASA I and II children under general anesthesia in an outpatient setting.
Community Service Learning Center – Ahoskie: CSLC-Ahoskie is one of the eight community service learning centers operated by the School of Dental Medicine that provides care in a rural environment. Residents get the opportunity to see patients with dental students and Advanced Education in General Dentistry residents that are referred from the surrounding rural counties for treatment and to screen patients for treatment at the local community hospital or referral to treatment in Greenville. Ahoskie is located approximately 60 miles (1 hour) from the School of Dental Medicine.
Vidant Roanoke-Chowan Hospital (VROA): VROA is a community hospital in Ahoskie, NC, where residents rotate with attending faculty members to treat children from rural areas who require general anesthesia for the delivery of dental care.
Research Requirement
Each resident is required to complete a research project that includes the use of the elements of scientific methodology, data collection and analysis and report the results in a scientific forum. Projects will be at certificate level and a final paper in publishable form must be submitted to the Program Director prior to a certificate being awarded.
Resident Evaluation
Residents are evaluated every 6 months to assess progress in the program. In addition to being evaluated by the faculty, the residents are asked to do a self-assessment to develop skills in self-actualization.
Current Faculty and Staff
Department Chair
Michael D. Webb, DDS, MEd
Division Director, Pediatric Dentistry
Nikki Tucker, DDS
Pediatric Dentistry Faculty:
Joseph Gondrez, DMD (part-time)
Roslyn Crisp, DDS, MS, PA (adjunct)
Division Director, Orthodontics
Wallace McCarlie, DMD, PhD
Residency Coordinator
Meredith Bullock
Administrative Assistant
Suzanne Roeller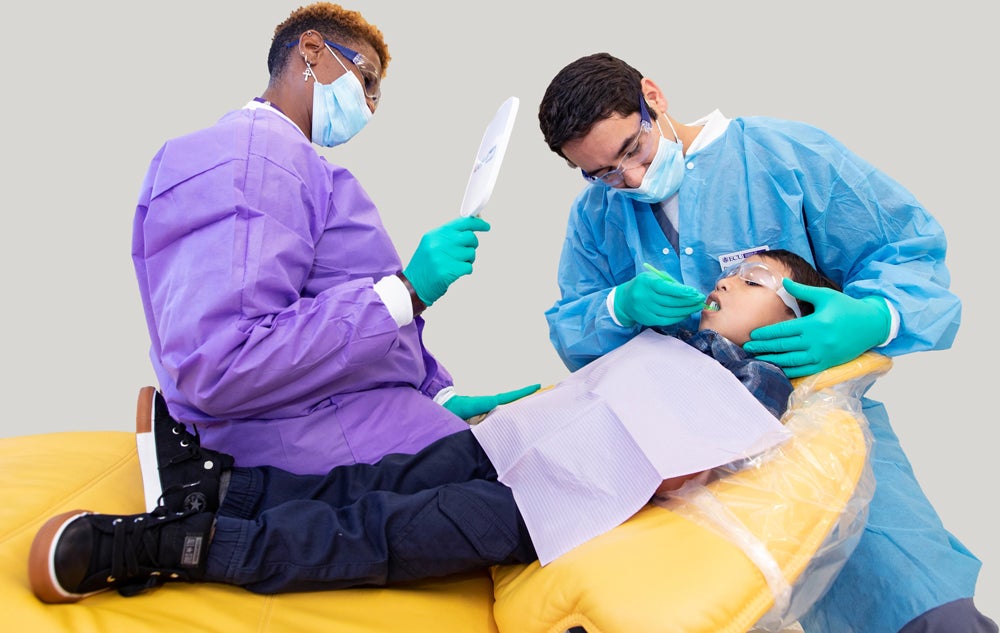 Program Stipend/Benefits
Salaries are consistent with current PGY I and PGY II levels in the health science center.  Current first year stipend is approximately $56,000 and no tuition is charged. More information can be found at https://gme.ecu.edu/benefits.
A variety of health insurance plans are available to the residents at group rates and are effective upon employment. Specific details will be sent out to residents that match with the program.In addition, professional liability is provided free of charge.
Each year residents are allowed 10 days of leave in addition to nine paid holidays. Leave includes vacation, personal time, job-seeking or illness.
Additional Links
Notice of Third Party Comments
Policy on Bloodborne Pathogens and Infectious Diseases