V. Wallace McCarlie, Jr, DMD, PhD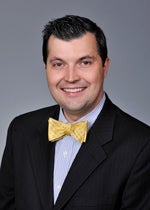 Director, Division of Orthodontics & Dentofacial Orthopedics
Graduate Faculty, Graduate School, ECU
Clinical Associate Professor
mccarlievw@ecu.edu
252-737-7168
3124 Ledyard E. Ross Hall
Board Certifications
Diplomate, American Board of Orthodontics
Education
Cert.Ortho – Indiana University, Orthodontics
PhD – Indiana University, Oral Biology
DMD – UNLV School of Dental Medicine
MA – Brigham Young University, Public Policy
Recent Fellowships
Chairs and Academic Administrators Management Program (CAAMP) Scholarship Award. American Association of Orthodontists (2022).
Selected Biographical Information
Dr. V. Wallace McCarlie, Jr is a board-certified orthodontist in his 12th year as a faculty member in the East Carolina University School of Dental Medicine.
McCarlie, a member of the Graduate Faculty at ECU, is director of the school's Division of Orthodontics and Dentofacial Orthopedics and a clinical associate professor in the Department of Pediatric Dentistry and Orthodontics & Dentofacial Orthopedics. Among his areas of inquiry, Dr McCarlie has studied oral health literacy.
"Caring for patients in the best way is a dentist's or specialist's ultimate objective. Over the last decade plus, literacy, not the literacy you think about in grade school, though that is part of it, has become a significant area of inquiry in medicine and dentistry," McCarlie said. "We are learning in medicine that health literacy plays an important role in patient outcomes. In the dental literature, the connection between oral health literacy and oral health outcomes is less developed but growing, which is one reason why I have studied it."
His academic interests also include education policy, curriculum, the history of university education, dental medicine and medicine. His clinical interests include orthodontics & dentofacial orthopedics, and oral health.
He has the distinction of being educated as a clinical and translational scientist and has both theoretical and practical experience in curriculum, program development, and both predoctoral education and postdoctoral education. 
McCarlie is the author of numerous abstracts and articles. Moreover, he has studied education policy and curriculum, oral health and smoking, the oral-systemic link, cariology, the immunology and genetics of dental caries, orthodontics, dentofacial orthopedics and orthodontic and dental history. He is a member of the American Association of Orthodontics, Southern Association of Orthodontics, North Carolina Association of Orthodontics, American Dental Association, North Carolina Dental Society, American Dental Education Association, Association for Clinical and the Association for Clinical and Translational Science, American Association for Dental, Oral, and Craniofacial Research, and the International Association for Dental Research.
McCarlie has served at the national level in orthodontic educational leadership positions, being elected as the American Dental Education Association Section on Orthodontics Secretary (2013-14), Chair-Elect (2014-15), and Chair (2015-16). He was subsequently elected to serve in various leadership positions for the American Association of Orthodontists (AAO) Society of Educators including Editor (2016-17), Secretary-Treasurer (2017-18), President-Elect (2018-19), and President (2019-20). Under the AAO's Council on Education, he currently serves on the Commission of Dental Accreditation Education Subcommittee (2021-2023), and recently completed an Academic Administrators Management Program (2022).
Recent Publications
Perry JL, Schleif E, Fang XM, Briley PM, McCarlie Jr VW. Can Velopharyngeal MRI be Used in Individuals with Orthodontic Devices? The Cleft Palate Craniofacial Journal. 2023;0(0).
https://journals.sagepub.com/doi/10.1177/10556656231194511
McCarlie VW Jr, Phillips ME, Price BD, Taylor PB, Eckert GJ, Stewart KT (2022) Orthodontic and oral health literacy in adults. PLoS ONE 17(8): e0273328.
https://doi.org/10.1371/journal.pone.0273328
Geraldeli, S.; Maia Carvalho, L.d.A.; de Souza Araújo, I.J.; Guarda, M.B.; Nascimento, M.M.; Bertolo, M.V.L.; Di Nizo, P.T.; Sinhoreti, M.A.C.; McCarlie, V.W., Jr. Incorporation of Arginine to Commercial Orthodontic Light-Cured Resin Cements—Physical, Adhesive, and Antibacterial Properties. Materials 2021, 14, 4391.
https://doi.org/10.3390/ma14164391