Donald Worm Jr., DDS, MS, ABGD, MAGD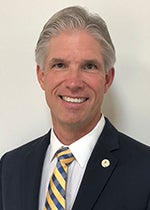 Clinical Associate Professor
Assistant Program Director 1-Year and 2-Year
Advanced Education in General Dentistry Residency Program

wormd23@ecu.edu
252-737-7004
3204-A Ledyard E. Ross Hall
Education
DDS – University of Michigan School of Dentistry
2-year AEGD/Comprehensive Dentistry Residency, Naval Dental School, Bethesda, Maryland
Masters in Health Sciences – George Washington University
Certificates
Diplomate, American Board of General Dentistry
Master, Academy of General Dentistry
Clinical/Research Interests
His passion is teaching Dentistry along with performing community and humanitarian service. He is honored to be part of the amazing ECU School of Dental Medicine team, helping to develop and inspire the next generations of dentists to serve the community.
Society Memberships
American Dental Association
Academy of General Dentistry
American Board of General Dentistry
International College of Dentists
American Dental Educators Association
Biographical Information
Dr. Worm is originally from Manistee, a small town in northwestern lower Michigan. He attended the University of Michigan School of Dentistry in Ann Arbor, Michigan.  During his junior year, he was commissioned as an Ensign as a Navy Dental Corps Officer. Graduating as a Doctor of Dental Surgery in 1988, he began serving active duty at Naval Air Station, Moffett Field, CA.
Dr. Worm's next Navy posting was onboard the aircraft carrier USS Enterprise (CVN 65) which completed a world cruise from San Fransisco, CA to Norfolk, VA. He then transferred to Branch Dental Clinic, Dam Neck, VA. Following that assignment, he attended the 2-year Comprehensive Dentistry Residency at the Naval Dental School, Bethesda, Maryland. His next tour was with the 2nd Dental Battalion, Camp Lejeune, NC where he stablished a 1-yr Advanced Education in General Dentistry Program. He then served as Exchange Dental Officer with the Royal Navy Dental Service in Portsmouth, England where he worked at HMS Nelson and HMS Collingwood and onboard the aircraft carrier HMS Invincible. He returned to the U.S. as Associate Professor, Comprehensive Dentistry Department, Naval Postgraduate Dental School, Bethesda, MD during which time he also served as the dentist to the President of the United States and Officer in Charge of the Presidential Dental Support Team. He then joined the staff of the Navy Surgeon General as Dental Corps Career Planner at the Bureau of Medicine and Surgery in Washington, DC. He returned to the Naval Postgraduate Dental School and served as Residency Program Director and Chair, Comprehensive Dentistry Department. He then moved to the home of the United States Naval Academy as Senior Dental Executive, Naval Health Clinic, Annapolis, MD. After two years he volunteered to deploy to Afghanistan where he was Team Lead, Validation and Health Care Development Team with NATO Training Mission Afghanistan/Combined Security Transition Command-Afghanistan. During this tour he worked with his Afghan Army counterparts and traveled to Afghan National Army hospitals throughout the country developing health care standards and implementing an inspection protocol for their implementation and assessment. He returned to the Naval Academy for a year, then transferred back to Bethesda, MD as the Director Associate Dean, Navy Graduate Dental Education Programs, Navy Medicine Professional Development Command. For his last two years in the Navy, he returned as Director of Dental Services, Naval Health Clinic, Annapolis. He retired after 30 years of service at the rank of Captain in July 2018. He went into private practice in Annapolis as an associate dentist, and then in April, 2023 joined the ECU School of Dental Medicine as the Assistant Director AEGD.
Dr. Worm is board certified with the American Board of General Dentistry, is a Master of the Academy of General Dentistry, and received his Masters in Health Sciences from George Washington University, Washington DC in conjunction with his certificate in Comprehensive Dentistry from the Naval Dental School, Bethesda, MD.
Dr. Worm has served as an officer at many levels in the Academy of General Dentistry (AGD) Navy Constituent, as Member the AGD Board, and as the Treasurer of the AGD. He was active in the Maryland State Dental Association on the Legislative Affairs Committee, and participated in the Missions of Mercy and Maryland Donated Dental Services.
Dr. Worm is an avid sailor, growing up sailing and racing on the Great Lakes where he raced in 12 Mackinac races. He also sailed in San Francisco Bay and up and down the Chesapeake Bay. He served as a volunteer coach for Navy Offshore Sailing, completing three Bermuda races and three Annapolis to Newport Races. He loves hiking, enjoying the outdoors, tennis, and golf, and is an enthusiastic tailgater for football games! His biggest passion is for his three grown children, Jessie, Kyra, and Scott.
Publications
Worm DA, Meiers JA.  "Effect of various types of contamination on microleakage between beta-quartz inserts and composite resin."  Quintessence International 24(4):271-277, 1996
Military Awards
Defense Meritorious Service Medal, Navy Meritorious Service Medal (6), Navy Commendation Medal (2), Navy Achievement Medal (3), Joint Meritorious Unit Commendation, Armed Forces Expeditionary Medal, Global War on Terrorism Medal, Humanitarian Service Medal, National Defense Medal (2), Expert Pistol Shot Medal, Meritorious Unit Citation (3), Navy Unit Commendation, Fleet Marine Force Ribbon, Sea Service Ribbon, Overseas Service Ribbon, and Navy Accession Training Service Ribbon.