Alvin E. Underwood, III, DDS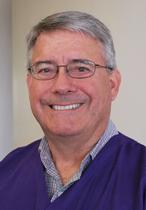 Clinical Assistant Professor, Endodontics
underwoodal14@ecu.edu
252-737-7122
Faculty Practice 252-737-7122
Office 252-737-7032
Ledyard E. Ross Hall
Clinical Interests
As a general dentist, Dr. Underwood developed an interest in and passion for endodontics. He received voluminous post-doctoral continuing education in endodontics, including a clinical mini-residency and completion of the continuum of endodontic courses for general dentists at Boston University's Goldman School of Graduate Endodontics with chairman Dr. Herbert Schilder. He applied his interest clinically as a referral source for endodontic services for over 30 general dentists and a population of over 40,000 patients in a closed panel HMO setting in Winston-Salem, N.C.
Education
DDS – UNC-Chapel Hill School of Dentistry, 1976
Society Memberships
American Dental Society
Academy of General Dentistry-/Fellow
North Carolina Dental Society
American Association of Endodontics/Associate Member
Biographical Information
Dr. Underwood is a native North Carolinian, having been raised in the Sandhills area of the state in the small town of Carthage. He has 5 siblings, 3 children and 4 grandchildren. His father and grandfather were dentists, both having graduated from the Baltimore College of Dental Surgery. Dr. Underwood served 3 years in the United States Air Force Dental Corps; 18 years on staff with Winston-Salem Dental Care Plan, Inc.; 11 years as a private practitioner in Winston-Salem, N.C.; and 3 years part-time with the Veterans Administration Department of Dentistry following retirement. He also retired from the United States Army Reserve Dental Corps as a Lieutenant Colonel. In addition to being a faculty member at ECU School of Dental Medicine Division of Endodontology, Dr. Underwood owns and operates a Bed and Breakfast near Abingdon, Virginia. He is also a partner in a lodging venture in the town of Damascus, Virginia. His hobbies include hospitality, motorcycling, landscaping, cooking, tennis and skiing.