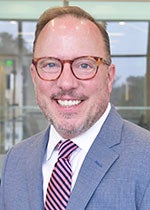 Department Chair: David W. Paquette, DMD, MPH, DMSc
The Department of Surgical Sciences is one of four academic departments at the ECU School of Dental Medicine. The department contributes to the School's vision of improving the oral health and well-being of North Carolinians and populations nationally and globally via educating the next generation of leaders in dentistry, providing quality, specialty-based patient care services and generating new knowledge via research and scholarly activities.
The Department of Surgical Sciences is diverse, interdisciplinary and collaborative. The department includes the following specialty areas or disciplines of Dentistry: Emergency Care, Endodontics, Oral Medicine, Oral and Maxillofacial Pathology, Oral and Maxillofacial Surgery, Orofacial Pain, and Periodontology.
Faculty members in Surgical Sciences are highly engaged in the didactic, preclinical and clinical components of the predoctoral dental curriculum and closely interact with dental students over the four-year program as they gain independent competency to enter general practice or advanced education programs. Surgical Sciences faculty also provide clinical instruction within the School's three residency programs: Advanced Education in General Dentistry, General Practice Residency and Pediatric Dentistry. Surgical Sciences faculty members provide direct patient care as participants in the School's Faculty Practice at Ross Hall. They also support patient care activities at the School's eight Community Service Learning Centers (CSLCs) around the North Carolina via consultative services (teledentistry) and provision of specialty services as attendings. Our faculty provide service, engagement and leadership at the school, university and national levels on committees, advisory boards, editorial boards and study section review panels.
Lastly, Surgical Sciences faculty conduct original research and scholarly activities in broad areas spanning oral health clinical trials, tissue regeneration, dental implants, oral-systemic health, oral premalignancies, and the scholarship of teaching and learning. Our faculty researchers actively collaborate with investigators across ECU's campus including the Thomas Harriot College of Arts and Sciences, College of Engineering and Technology, Brody School of Medicine, East Carolina Diabetes and Obesity Institute, Center for Health Disparities and Biomaterials Cluster.