Community Service Learning Center – Spruce Pine, NC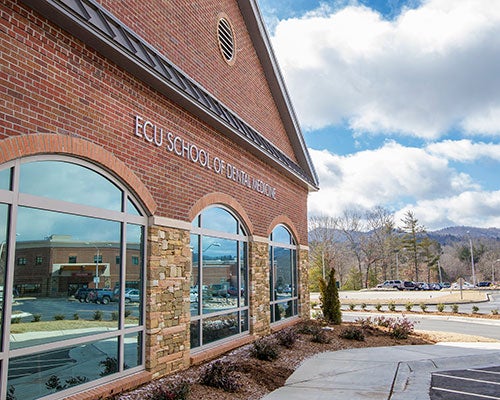 East Carolina University
School of Dental Medicine
Community Service Learning Center-Spruce Pine
179 Hospital Drive
Spruce Pine, NC 28777
Phone: 828-765-0110
Fax 828-765-0123
The ECU School of Dental Medicine Community Service Learning Center in Spruce Pine, North Carolina, exemplifies the Dental School's vision to improve the health and quality of life of all North Carolinians by creating leaders with a passion to care for the underserved and by leading the nation in community-based, service learning oral health education.
We are committed to offering comprehensive general dental services for adults, children and special needs patients in a safe, caring and professional setting.
Appointments: Our clinic is open Monday through Friday 8:00 a.m. until 5:00 p.m, with the exception of Wednesday 10 a.m. to 5 p.m. The amount of time scheduled for an appointment depends on the patient's specific needs. We ask that you keep your appointed time for care or provide 24-hour notice of all appointment changes. Parents or legal guardians must accompany minor children.
Call for Appointment: 828-765-0110
Payment for Services: Medicaid and other insurance plans are welcomed. Payment for services is due when services are rendered and may be made by cash or credit card. If you have dental insurance, we will assist you with your claim submission.
Emergencies: Emergency services will be provided Monday through Friday on a walk-in basis. Please arrive early for emergency services. After hours emergency services will be provided for patients of record as required by calling the after-hours emergency number given during patient registration.
Services:
Comprehensive General Dentistry
Children's Dentistry
Oral Surgery – Extractions
Root Canals
Sealants and Tooth Colored Fillings
Crowns and Bridges
Dentures and Partial Dentures
Implant Services
Periodontal Services and Cleanings
Cosmetic Tooth Whitening
Digital Radiography
3-D/Cone Beam Imaging