Pediatric Dentistry & Orthodontic & Dentofacial Orthopedics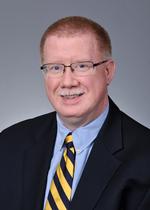 Department Chair:  Michael Webb, DDS, MEd
Welcome to the Department of Pediatric Dentistry and Orthodontics and Dentofacial Orthopedics. It is our goal to introduce dental students and residents to the dental specialties of pediatric dentistry and orthodontics. Specifically, it is our mission to instruct and oversee the management of oral health and disease in infants, children, and adolescents. The department's curriculum focuses on helping students learn the principles and practices of contemporary pediatric and orthodontic dental care. Our clinical programs are focused on improving the quality of life for our patients through preventive management and clinical care.
The department's pre-doctoral program of instruction in orthodontics is directed toward providing the dental student with the knowledge and skills to diagnose and treat dental and skeletal abnormalities in the mouth, teeth, and gums. Through the perspective of the general dental practice, students learn to consult as a team member with the orthodontic specialist, refer cases requiring specialist care, as appropriate, and coordinate comprehensive care of the patient.
It is our commitment to foster a caring and productive learning and treatment environment that will advance oral health care and the general well being of our patients and their families.
Pediatric Dentistry Residency Program
The East Carolina University School of Dental Medicine offers a two-year Pediatric Dentistry Residency program that will prepare residents to practice contemporary pediatric dentistry and sit for the American Board of Pediatric Dentistry certification examination. The curriculum includes instruction in all aspects of pediatric dentistry including dental care for the pediatric patient, orthodontics, pediatric medicine, anesthesiology, sedation and care of children with special needs.
For more information, contact:
Administrative Assistant:
Suzanne Roeller
Telephone:
252-737-7033
Email:
roellers18@ecu.edu
Address:
ECU School of Dental Medicine
1851 MacGregor Downs Road
Mail Stop 701
Greenville, NC 27834