David W. Paquette, DMD, MPH, DMSc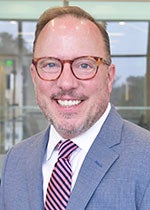 Chair, Department of Surgical Sciences

Faculty Practice: 252-737-7122
Office: 252-737-7034
Ledyard E. Ross Hall
Research Interests
The connection between poor oral health (periodontitis) and systemic diseases, novel interventions for periodontal disease, oral health disparities, and the scholarship of teaching and learning.
Board Certifications
Diplomate, American Board of Periodontology
Education
BS – Boston College
DMD – Harvard University
MPH – Harvard University
DMSc – Harvard University
Society Memberships
American Academy of Periodontology
American Dental Association
American Dental Education Association
International/American Association for Dental Research
Omicron Kappa Upsilon National Dental Honor Society
About Dr. David Paquette
Dr. Paquette is professor and chair of the Department of Surgical Sciences at ECU School of Dental Medicine. He also is appointed assistant dean for academic success and interim associate dean for research. Dr. Paquette is an affiliate with the ECU Center for Health Disparities and the East Carolina Diabetes and Obesity Institute.
Dr. Paquette received a DMD, MPH (Health Policy and Management) and DMSc (Oral Biology) along with a certificate in Periodontology from Harvard University. He previously held academic positions at the University of North Carolina at Chapel Hill and Stony Brook University. He is a diplomate of the American Board of Periodontology and participates in ECU's Dental Faculty Practice as a periodontist.
For the past 25 years, Dr. Paquette has maintained an active translational research program funded through federal and industry sources. His research interests are broad but can be mapped to four areas: 1) documenting disparities and the social determinants of oral health affecting rural populations and communities; 2) investigating the associations between poor oral health (periodontal disease) and systemic diseases and conditions like type 2 diabetes and cardiovascular disease; 3) testing novel interventions (therapeutic, preventive and diagnostic) for periodontal diseases; and 4) contributing to the scholarship of teaching and learning related to dental education.
Dr. Paquette's interdisciplinary collaborations involve colleagues representing the biomedical sciences, social and behavioral sciences, clinical sciences, medicine, epidemiology, biostatistics, public health and education. Many of his graduate and dental student mentees have gone on to academic and research careers at U.S. dental schools and abroad. He is a past associate editor for the Journal of Periodontology, serves as a study section reviewer with the National Institutes for Health, and has been a consultant or scientific advisor for the oral pharmaceutical industry over the years.
Publications
View the complete listing of publications by Dr. Paquette
https://www.ncbi.nlm.nih.gov/myncbi/1pYOCdVmUDRAm/bibliography/public/
Gay I, Tran D, Paquette DW. Alcohol intake and periodontitis in adults aged 30+ years: NHANES 2009-2012. J Periodontol 2018;89:625-634.
Paquette DW, Wilder RS, Bell KP, Phillips C, Offenbacher S. Dentists' knowledge and opinions of oral-systemic disease relationships: relevance to patient care and education. J Dent Educ 2015;79:626-635.
Michalowicz BS, Hyman L, Hou W, Oates TW, Reddy MS, Paquette D, Katancik JA, Engebretson SP, DPTT Study Team, Factors associated with periodontal treatment response in adults with diabetes. J Am Dent Assoc 2014;145:1227-1239.
Engebretson SP, Michalowicz BS, Seaquist ER, Reddy M, Lewis CE, Oates T, Tripathy D, Katancik J, Orlander PR, Paquette D, Gelato MC, Hanson NQ, Tsai MY, Hou W, Schoenfeld ER, Hyman L. Effect of non-surgical periodontal therapy on hemoglobin A1c in persons with type 2 diabetes and chronic periodontitis: a randomized controlled trial. JAMA 2013;310:2523-2532.
Offenbacher S, Beck JD, Moss K, Mendoza L, Paquette DW, Barrow DA, Couper DJ, Stewart DD, Falkner KL, Graham SP, Grossi S, Gunsolley JC, Madden T, Maupome G, Trevisan M, Van Dyke TE, Genco RJ. Results from the periodontitis and vascular events (PAVE) study: a pilot multicentered, randomized, controlled trial to study effects of periodontal therapy in a secondary prevention model of cardiovascular disease. J Periodontol 2009;80:190-201.
Research Mentees
Leah Anderson
Predoctoral Dental Student
"Patient diversity as a component of cultural competency and dental education within a community service learning clinical model"
Brittany Height and Monique Duru
Predoctoral Dental Students and J. Bradley Wilson Schweitzer Fellows
"Creating a dental referral pipeline for patients with type 2 diabetes between ECU Family Medicine and the School of Dental Medicine"
Cameron Swift
Predoctoral Dental Student
"Periodontal health disparities among adults in rural North Carolina"
Contact
David W. Paquette, DMD, MPH, DMSc
Professor & Chair, Department of Surgical Sciences
Interim Associate Dean for Research
Assistant Dean for Academic Success
School of Dental Medicine
East Carolina University
Ross Hall 3113
1851 MacGregor Downs Road
Greenville, NC 27834
Phone: 252-737-7034
Email: paquetted15@ecu.edu