David G. MacPherson, CD, DDS, FAGD, MSc, ABGD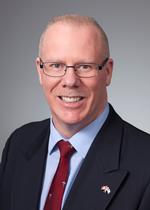 Director, Advanced Education in General Dentistry (AEGD)
Clinical Associate Professor
macphersond17@ecu.edu
252-737-7744
Ledyard E. Ross Hall
Board Certifications
American Board of General Dentistry
Academy of General Dentistry (Fellow
Education
DDS – University of Western Ontario, Schulich School of Medicine and Dentistry
MS – Oral Biology – Uniformed Services University of the Health Sciences, Postgraduate Dental College (Bethesda, Maryland) – US Army Postgraduate Dental School, Fort Hood, Texas
AEGD – Advanced Education in General Dentistry – Uniformed Services University of the Health Sciences, Postgraduate Dental College (Bethesda, Maryland) – US Army Postgraduate Dental School, Fort Hood, Texas
Professional Memberships
American Board of General Dentistry (and Deputy Board Examiner – 2016)
Academy of General Dentistry
Royal College of Dental Sugeons of Ontario
Biographical Information
Dr. MacPherson joined the Canadian Army as a soldier in 1981 and then commissioned as an officer in the Combat Arms in 1984. He served a full career in the Combat Arms, commanding and leading soldiers in units across Canada, with NATO in Germany during the Cold War, in the former Republic of Yugoslavia, and in the Middle East. He was a paratrooper in the Canadian Airborne Regiment Battle Group, served on a headquarters staff during the First Gulf War, and was attached to the United Nations for a year where he led a team of military observers during the war in South Lebanon. After commanding an Artillery Battalion in the 2nd Canadian Mechanized Brigade Group, he worked alongside the US Army at Fort Bliss (Texas) for three years following the attacks of 9/11, during the launch of initial operations in the Afghanistan War and the Second Gulf War.
Dr. MacPherson's undergraduate education was through the Royal Military College of Canada and the University of Texas at El Paso. He returned to dental school in 2004 at the University of Western Ontario, and then served in the Royal Canadian Dental Corps as a General Duty Dentist at Canadian Forces Base Halifax, as the Fleet Dental Officer deployed to sea on Her Majesty's Canadian Ship Preserver, and then he commanded the 12 Wing Dental Clinic at Canadian Forces Base Shearwater in Nova Scotia. He completed post-graduate residency training with the US Army at Fort Hood (Texas), and then served as the Comprehensive Dentist and Clinic Commander at Canadian Forces Base Borden. His last appointment in the Canadian military was Chief Instructor for Medical and Dental Education and Training in the Canadian Armed Forces.
Dr. MacPherson is a graduate of the Canadian Land Forces Command and Staff College, the US Army 2-year Advanced Education in General Dentistry Residency Program, and he completed a MSc in Oral Biology through the Uniformed Services University of the Health Sciences. He is Board Certified by and a member of the American Board of General Dentistry, and a Fellow and a member of the Academy of General Dentistry.
Dr. MacPherson joins the faculty team at the ECU School of Dental Medicine with a passion for mentoring and developing comprehensive general dentists, who are clinically skilled, competent, and dedicated to delivering the full-spectrum of oral healthcare needs for their patients, and who will serve as the next generation of clinicians, leaders, and future educators for the profession of dentistry.