Paul A. Lindauer, DDS, MA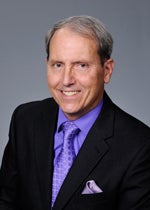 Division Director of Endodontology
Assistant Dean for Academic Success
Chair, Student Progress Committee
Clinical Associate Professor

Faculty Practice: 252-737-7122
Office: 252-737-7157
Ledyard E. Ross Hall
Clinical Interests
Apply new clinical instruments and techniques to improve treatment outcomes and reduce pain associated with endodontic therapy.
Board Certifications
Diplomate, American Board of Endodontics, 1991
Education
MAEd – East Carolina University, 2019
DDS – Loyola University Chicago School of Dentistry 1981
Certificate of Residency Training In Endodontics – Naval Postgraduate Dental School, Bethesda, MD 1988
BS – (Biology) Summa Cum Laude, Loyola University Chicago 1979
Didactic Interest
To find a way to help every student and resident realize their
maximum potential.
Society Memberships
American Dental Association
American Association of Endodontists
Charter Life Member, College of Diplomates of the American Board of Endodontics
Fellow, International College of Dentists
Fellow, American College of Dentists
Biographical Information
Dr. Lindauer completed a 33 year career in the U.S. Navy during which he held leadership positions at every level of Navy Dentistry. His operational assignments included two deployments in USS Enterprise (CVN 65) as well as deployments with the Marine Corps to Desert Shield/Desert Storm and Operation Iraqi Freedom.
In his role as Commanding Officer First Dental Battalion/Naval Dental Center Camp Pendleton, he led 350 personnel who provided dental support for the 45,000 Marines and Sailors of I Marine Expeditionary Force during Operation Enduring Freedom and Operation Iraqi Freedom I and II.
Dr. Lindauer served both as an Alternate Delegate and Delegate in the American
Dental Association House of Delegates from 1994-1998. He was Federal Dental Services Subcommittee Chair for the American Association of Endodontists from
2005-06. Volunteer faculty positions supporting endodontic residency training programs included: University of North Carolina Chapel Hill (1991-92), Northwestern University Dental School (1992-1996), and University of Illinois Chicago (2012-14).
Dr. Lindauer was named the American Dental Education Association/American Association of Endodontists Foundation Scholar in the American Dental Education Association Leadership Institute Class of 2020.