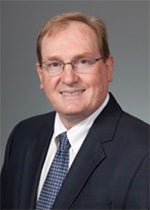 Clinical Assistant Professor
Assistant Faculty Director
Faculty Practice: 252-737-7122
Office: 252-737-3146
Ledyard E. Ross Hall
Clinical Interests
Restorative Dentistry
Direct Bonding and Esthetics
Digital Dentistry
Education
DDS – UNC-Chapel Hill School of Dentistry
BS – Emory University
Society Memberships
American Dental Association
American Dental Education Association
Biographical Information
Dr. Kellogg retired from private practice in 2015 after thirty plus years in practice and began teaching pre-doctoral dental students for two years as an Adjunct Clinical Assistant Professor in the Operative Department at the University of North Carolina at Chapel Hill School of Dentistry.
Upon his hiring in 2016 at the ECU School of Dental Medicine (SODM), he taught residents and pre-doctoral dental students at several of ECU's Community Service Learning Centers (CSLC's) including stints as the Interim Director of the Davidson CSLC, Assistant Director of the Brunswick CSLC, and at various other of the eight CSLC's throughout North Carolina.
In 2019 Dr. Kellogg came to ECU's SODM in Greenville, as Clinical Assistant Professor where he also acted as Interim General Practice Group Leader. He is currently Director of the Student Learning Center – Ross Hall which was initiated in July 2020 and designed to mimic private practice much like the CSLC's.
He was selected by the Class of 2021 to receive the "Outstanding Faculty Award" for his time, energy and dedication to the education of dental students, especially through the adversity presented by the COVID-19 pandemic.
Dr. Kellogg is married with two grown children and has interests in music, writing, and his aptly named pet yorkie, "Keegan" (Gaelic for "little fiery one").