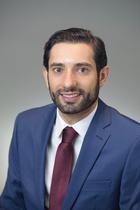 Division Director of Periodontology
Clinical Associate Professor
Faculty Practice: 252-737-7122
Office: 252-737-7483
Ledyard E. Ross Hall
Clinical Interests
Implant dentistry, guided bone regeneration and periodontal regeneration, soft tissue management and cosmetic dentistry, relationship between systemic disease and periodontal disease, quorum sensing within the oral microbiota.
Board Certifications
Diplomate, American Board of Periodontology
Advanced Cardiac Life Support (American Heart Association)
Basic Life Support (American Heart Association)
Education
DDS – University of Cagliari, Italy
Master in Clinical Endodontics – University of Bologna, Italy
MS and Certificate in Periodontology – University of North Carolina at Chapel Hill
Society Membership
American Academy of Periodontology
Biographical information
Dr. Gillone received his Doctor of Dental Surgery from the University of Cagliari School of Dentistry in Italy in 2009. Thereafter, he began clinical practice as a general dentist in Cagliari while attending the advanced training program in endodontics at the University of Bologna School of Dentistry. In 2011, he received the credential, "master of clinical endodontics," from the University of Bologna. While greatly satisfied with private practice, Dr. Gillone realized a desire to pursue the surgical discipline of periodontics and study in the United States. He applied and was successfully admitted to the advanced specialty education program in periodontology at the University of North Carolina at Chapel Hill (UNC-CH) School of Dentistry. He completed the program and was awarded his certificate and master's degree in periodontology in May 2016.
Awards
2016: Billy M. Pennel Award (Third place, Basic Science Category), Southern Academy of Periodontology
Derek T. Turner Student Research Award, University of North Carolina, School of Dentistry
2015 – 2016: Fellowship from the Ann and G. Randolph Babcock and Advanced Education funds
2014 – 2015: Elsie and Baxter Sapp Fellowship
Posters
Gillone A, Dessì FB, Schirru E, Esposito S, Cotti E. A review on Regenerative Endodontic Procedures to be suggested for trauma cases. 16th World Congress, Dental Traumatology, Verona, Italy, June 2010.
Gillone A, Marchesan JT, Irving PS, Barros SP, Offenbacher S. Role of Novel Quorum Sensing Molecules (DKPs – Diketopiperazines) as activators of bacterial virulence and host response. Dental Research In Review Day, UNC, Chapel Hill, February 2016.
Publications
Cotti E, Carpiniello B, Casu C, Gillone A, Lepori T, Maccioni R, Sergi C, Acquas E. Disturbi da uso di sostanze e malattie dentali: lo stato dell'arte. Medicina delle Dipendenze 7 (Italian Journal of the Addictions), September 2012, Monograph, 64 pages.
Gillone A, Cotti E, Sergi C. Rivascolarizzazione pulpare come trattamento alternativo per elementi dentali immaturi necrotici, Il Dentista Moderno, June 2010, 106-112.