General Practice Residency
Program Overview from Stephanie Ledbetter, DDS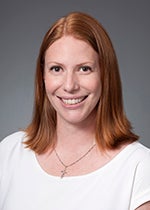 The dental General Practice Residency at East Carolina University offers a one-year program for recent dental graduates to prepare for private practice or for further graduate study in a dental specialty area. The program has been accredited since 1980, providing opportunities for four residents each year for supervised clinical experience in comprehensive dental care.
The primary objective of the Residency Program is to provide optimal dental care to both medically compromised and healthy patients in a hospital environment. In conjunction with this care, you will have learning opportunities in all disciplines of dentistry and several disciplines of medicine. These experiences will enable you to refine and expand your clinical skills and help you to develop into a well-rounded, competent comprehensive dentist and respected professional. The training you will receive in our unique practice setting will also prepare you for a smoother transition to private practice. If you choose to specialize, our program will prepare you to enter specialty training with greater self-confidence.
For information on how to apply, click the application process tab. I would be pleased to talk with you further about our program. Call or send an email if you have questions or would like to request an application.
Sincerely,
Stephanie Ledbetter, DDS, Director of General Practice Residency
For more information:
Email: woolardsa@ecu.edu
Tel: 252.744.5518
Fax: 252.744.2827
Curriculum
The dental facility is located in the ECU Health Medical Center and is adjacent to the East Carolina Heart Institute Tower and Leo Jenkins Cancer Center.
The program's hospital dental clinic functions as a fee-for-service general practice. One resident is always on rotation to other medical or dental services while the other three residents see patients in the Hospital Dentistry clinic. Support staff in the clinic includes three dental assistants, one hygienist, two patient representatives, and one program coordinator. Teaching faculty supervise residents in general dentistry, hospital dentistry, endodontics, periodontics, prosthodontics, oral and maxillofacial surgery, oral and maxillofacial pathology, and orthodontics. Residents have additional clinical experiences in periodontal surgery and pediatric dentistry at the ECU School of Dental Medicine and learn how to manage dental patients in the operating room.
The program is designed to provide training beyond the level of pre-doctoral education in oral health care using applied basic and behavioral sciences. The program emphasizes resident education based on the concept that oral health is an integral and interactive part of total health. The program is designed to expand the scope and depth of the graduates' knowledge and skills to enable them to provide comprehensive oral health care to a wide range of population groups.
The goals and objectives of this program are to educate and prepare the graduate to:
Act as a primary care provider for individuals and groups of patients. This includes providing emergency and multidisciplinary comprehensive oral health care; providing patient focused care that is coordinated by the general practitioner; directing health promotion and disease prevention activities; and using advanced dental treatment modalities.
Practice general dentistry that involves planning and providing multidisciplinary oral health care for a wide variety of patients, including patients with special needs.
Manage the delivery of oral health care by applying concepts of patient and practice management and quality improvement that are responsive to a dynamic health care environment.
Function effectively within the hospital and other health care environments.
Function effectively within interdisciplinary health care teams.
Apply scientific principles to learning and oral health care. This includes using critical thinking, evidence or outcomes-based clinical decision-making, and technology-based information retrieval systems.
Utilize the values of professional ethics, lifelong learning, patient centered care, adaptability, and acceptance of cultural diversity in professional practice.
Understand the oral health needs of communities and engage in community service. This includes directing oral and systemic health promotion and disease prevention activities through participation in community programs focused on improving access to oral care and the prevention and reduction of oral disease.
GPR achieves these goals by providing exemplary training experiences and practice opportunities through:
Supervised clinical experience in recognizing and evaluating clinical manifestations of systemic disease and its relation to dental treatment.
Experience with hospital procedures and functions of other hospital departments through emphasis on specific responsibilities in a hospital dental service.
Participation in a consulting service as well as on-call emergency care to patients through the teaching hospital.
Advanced comprehensive dental care for patients in all dental disciplines.
Opportunities to explore clinical research interests.
Residents receive ongoing training in hospital procedure and protocol, as well as the functions of other hospital departments. Residents are expected to become familiar with an interdisciplinary approach to health care and are continually involved in consultations with physicians and dental specialists for hospital and ambulatory patients.
Rotations include anesthesiology, otolaryngology, family medicine, physical diagnosis, emergency medicine, and dental specialties. This balance allows approximately 9 ½ months in the clinic and 2 ½ months on clinical rotation. Educational opportunities are supplemented through conferences, seminars, tutorial experiences, as well as library research and self-study.
A Competency-based Program
The GPR is a competency-based program which is designed to educate and train the resident to a level of competency in his or her ability to:
Function as a patient's primary and comprehensive oral health care provider.
Provide patient-focused care using advanced treatment modalities.
Obtain and interpret the patient's chief complaint, medical, dental, and social history, and review of systems.
Obtain and interpret clinical and other diagnostic data from dental professionals and other health care providers.
Use the services of clinical, medical and pathology laboratories and make referrals to other health professionals for the utilization of these services.
Perform a history and physical evaluation and collect other data to establish a risk assessment for use in the development of a dental treatment plan.
Use accepted health promotion and disease prevention strategies to help patients maintain and improve their oral health and aspects of their systemic health.
Obtain informed consent for dental treatment by discussing with patients, or parents/guardians of patients, the following: findings, diagnoses, risks, benefits, and process of various treatment options, patient responsibilities during and after treatment, and estimated fees and payment responsibilities.
Assess, diagnose and integrate multiple disciplines into individualized, comprehensive treatment plans for a wide variety of patients, including patients with special needs, in a manner that considers and integrates those patients' medical, psychological, and social needs.
Understand and demonstrated the application of the principles of ethical reasoning, decision making and professional responsibility as they pertain to the academic environment, research, patient care, and practice management.
Evaluate and treat patients with intra-oral dental emergencies and infections.
Evaluate and manage patients with extra-oral and orofacial dental emergencies and infections.
Manage medical emergencies that may occur during dental treatment.
Restore teeth with a wide variety range of materials and methods.
Treat patients with missing teeth using removable restorations of varying levels of complexity.
Treat patients with missing teeth using fixed restorations of varying levels of complexity.
Manage patients with missing teeth using uncomplicated dental implant restorations.
Place restorations and perform techniques to enhance patient's facial esthetics.
Restore endodontically treated teeth.
Manage occlusal disorders.
Perform non-surgical anterior endodontic therapy of varying levels of complexity.
Perform non-surgical posterior endodontic therapy of varying levels of complexity.
Manage endodontic emergencies and complications.
Perform surgical and non-surgical extraction of teeth given varying levels of complexity.
Manage patients requiring surgical extraction of impacted teeth given varying levels of complexity.
Manage patients requiring uncomplicated pre-prosthetic surgery.
Diagnose and manage post-surgical complications.
Manage traumatic injury, to include facial, dentoalveolar and soft tissue trauma.
Manage periodontal disease of varying levels of severity.
Manage the periodontal needs of patients requiring dental implants.
Manage oral mucosal diseases.
Manage patients presenting with temporomandibular disorders and orofacial pain.
Perform dental consultations and request medical consultations for hospitalized patients and patients in other health care settings.
Use behavioral and pharmacologic techniques in the management of pain and anxiety in dental patients.
Understand the management of pain and anxiety in the conscious patient through the use of parenteral conscious sedation techniques.
Prevent, recognize, and manage complications related to use and interactions of drugs, local anesthesia, and conscious sedation.
Direct oral and systemic health promotion and disease prevention activities through participation in community programs focused on improving access to oral care and the prevention and reduction of oral disease.
Provide dental care as a part of an interdisciplinary health care team such as that found in a hospital, institution, or community health care environment.
Make referrals to, and obtain consultations from, professional colleagues for the treatment of dental, medical, psychological, and social problems presented by dental patients.
Critically evaluate scientific literature and use information in the literature in making professional decisions.
Assess patient's cultural background and expectations for dental care and perform patient care consistent with that assessment.
Be able to manage and work effectively with allied dental professionals and other office personnel in providing dental care.
Understand and participate in quality management and the peer review process.
Understand the basic principles of practice management and practice development.
Apply principles of jurisprudence, risk management and professional ethics in the practice of dentistry.
Understand how dental care is managed in alternative health care delivery systems.
Understand the basic principles of managed care.
Use information retrieval systems and information technology in dental practice.
Assessment and Evaluation
Resident are evaluated quarterly on their clinical and didactic performances by faculty and the program director. They are also evaluated on their rotation performances by their rotation preceptors. The program director reviews these evaluations quarterly with residents. Patient charts are reviewed after every initial exam and every treatment appointment. The program director conducts periodic case reviews with each resident to assess treatment progress, documentation, and quality of patient care. Residents are given the opportunity to evaluate the faculty and rotations as well as the residency as a whole to assist in continuous program improvement. Residents are also given a pre-test during orientation and a post-test at the end of the program to assess knowledge in hospital administration, medical risk management, treatment of medically-compromised patients, inpatient/outpatient surgery, pharmacology, medical emergencies, pathology and infection control.
Salary and Benefits
First year salary
For more information, visit the Graduate Medical Education website.
Vacation
Three weeks of paid vacation annually.
Holidays
Nine holidays annually.
Sick Leave
Twelve days of paid sick leave annually.
Medical Plan
Group plans for hospital and health insurance for the residents and dependents are available at group rates and are effective upon employment. A variety of plans are available and paid through salary reduction on an after tax basis. Upon completion of six months of employment, premiums are paid on a before tax basis.
Long Term Disability Insurance
Income protection in event of disability. Income is nontaxable and pays 60% of base salary. Policy includes death benefit. Effective upon employment.
Group Life Insurance
Protection for your beneficiary equal to your annual salary. Policy also includes an accidental death and dismemberment clause. PCMH pays 100%. Coverage effective upon employment.
Flexible Benefits
A flexible benefit program is available after six months of employment which include: medical plan deductible options; dental plan; additional life insurance; dependent life insurance; child care and health care reimbursement accounts; and partnership savings plan.
Hospital Bill Discount
ECU Health Medical Center offers discounts to residents and immediate family members. Discount will apply if requested from the business office within 60 days of insurance payment or denial.
Professional Liability Insurance
Residents are provided $1,000,000 in malpractice coverage.
Additional Benefits
Lab Coats Allowance
Cafeteria Meal Allowance
Application Process
Applicants must have a Doctor of Dental Science or Doctor of Dental Medicine degree and be a graduate of a U.S. or Canadian dental school.  You should submit your PASS application by October 15.
You may obtain a PASS application at their website ADEA PASS or by contacting PASS at 1-800-353-2237.
All PASS applications are reviewed by the Program Director. Interviews are granted based upon academic standing, letters of recommendation, and personal statement.
This program participates in the National Dental Matching Program. More information can be found at Postdoctoral Dental Matching Program
A supplemental application from East Carolina University is also required and can be downloaded here.
For more information:
Email: woolardsa@ecu.edu
Tel: 252.744.5518
Fax: 252.744.2827
Additional Links