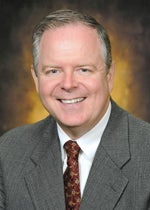 Department Chair: Linc J. Conn, DDS, MPH
Welcome to the Department of General Dentistry. It is our goal to introduce dental students in our pre-doctoral DMD program and residents to the various disciplines of dentistry needed for a well-rounded dental practitioner. The dental disciplines of oral diagnosis, restorative dentistry, prosthodontics, oral radiology, practice management, and special patient care are coordinated with the disciplines in the other School of Dental Medicine departments to provide a comprehensive educational experience for future dental practitioners. Our clinical program is based upon a general dentistry model of education and is used to prepare students for general practice upon graduation.
The Department of General Dentistry's post-graduate programs include the Advanced Education in General Dentistry (AEGD) program and the General Practice Residency (GPR) program. The AEGD program places residents in Ledyard E. Ross Hall at ECU and at each of our school's Community Service Learning Centers (CSLC) across North Carolina. In the near future, we will have a second year AEGD Program allowing the resident to obtain Certificate in Education with a focus on Dental Education. GPR residents see both medically compromised and healthy patients as inpatients, outpatients, and in the OR. The GPR clinic is on the ECU Health Sciences campus in close proximity to ECU Health Medical Center.
For more information, contact:
Administrative Assistant:
Tori Russ
Telephone:
252-737-7039
Email:
russt@ecu.edu

Address:
ECU School of Dental Medicine
1851 MacGregor Downs Road
Mail Stop 701
Greenville, NC 27834