Director of Academic Success/SoDM Registrar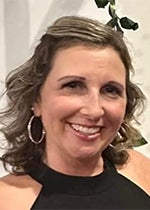 Director of Academic Success/SoDM Registrar: Janet Brooks
The SoDM Registrar is responsible for maintaining educational and administrative records for all current and former students of the School of Dental Medicine.  Students and third-party individuals can contact this office for transcript questions, enrollment verification letters and letters of academic standing.
Official transcripts must be processed by the University Registrar's Office and can be ordered by clicking the link below:
https://registrar.ecu.edu/transcripts/
The Director of Academic Success/SoDM Registrar provides oversight and management of academic records along with a variety of programs and services that support and assure the academic success of predoctoral dental students and advanced education residents at the School of Dental Medicine.
This position oversees, directs, and promotes the planning and implementation of academic support activities and projects that extend the benefits of the educational, research, and service activities supporting the SoDM's mission. The Director has considerable knowledge of the school's academic support programs and utilizes knowledge of related university and school guidelines and standard operating procedures (SOPs) to enhance student performance.
The Director/Registrar serves as point of contact for academic records for current and past SoDM students. The position works collaboratively with many departments within the school of dental medicine, our CSLCs and the university to plan and oversee comprehensive academic success and support services.
Additional areas supported by this position include coordinating registration for INBDE testing, student externships, and assisting with data entry for ECU students utilizing the PASS system for residency programs (Postdoctoral Application Support Service).
For more information, contact:
SoDM Registrar and Director of Academic Success:
Janet Brooks
Telephone:
252-737-7887
Email:
brooksj15@ecu.edu
Address:
ECU School of Dental Medicine
c/o SoDM Registrar
1851 MacGregor Downs Road
Mail Stop 701
Greenville, NC 27834-4354