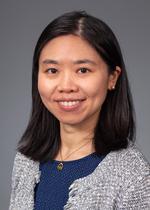 Clinical Assistant Professor
Group Leader (GPG3)
cuix19@ecu.edu
Office: 252-737-7890
3155 Ledyard E. Ross Hall
Board Certifications
1 Year Certificate in General Practice Residency Education
DDS – University of Nebraska Medical Center College of Dentistry
MS – Peking University, School of Stomatology, China
BDM – Shandong University, School of Stomatology, China
BA – Shandong University, School of Foreign Language and Literature, China
Society Memberships
American Dental Association (ADA)
Academy of General Dentistry (AGD)
Biographical Information
Dr. Xiaoxi (Sophie) Cui is originally from China. She earned a BDM (bachelor of dental medicine) from Shandong University, China, in 2011. She completed a residency program in periodontology at Peking University and a master's degree in 2014 before moving to the U.S. in 2014. She earned a DDS from University of Nebraska College of Dentistry in 2018 and completed one year of GPR at University of Nevada Las Vegas.
Publications
X Cui, J Liu, W Xiao, Y Chu, X Ouyang. Subgingival microbiome in Chinese patients with generalized aggressive periodontitis compared to healthy controls. Arch Oral Biol. 2019 May; 101:92-99.
Cui X, Monacelli E, Killeen AC, Samson K, Reinhardt RA. Impact of Modifiable Risk Factors on Bone Loss During Periodontal Maintenance. Oper Dent. 2019 May/Jun; 44(3): 254-261.
Xiaoxi Cui, David G Dunning, and Na An. Satisfaction among Early and Mid-career Dentists in a Metropolitan Dental Hospital in China. J Healthc Leadersh. 2017; 9: 35–45.