Author Recognition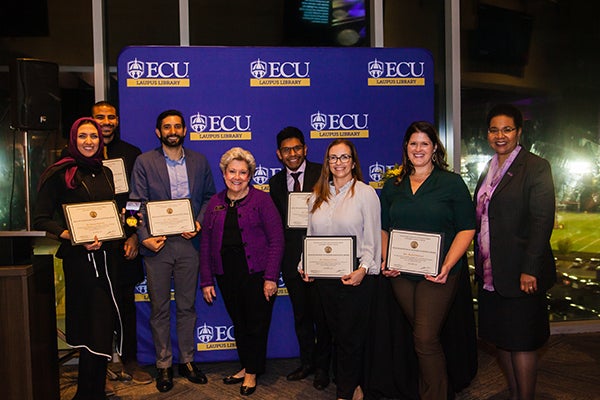 Ten faculty and staff members from the ECU School of Dental Medicine were honored on Tuesday, Nov. 8, during Laupus Library's 17th annual Health Sciences Author Recognition Awards. The ceremony was held in TowneBank Tower at Dowdy-Ficklen Stadium and recognized the past year's publications by health sciences authors.
"The School of Dental Medicine faculty and staff are consistently honored during this great event each year," said Dr. Margaret Wilson, vice dean of the ECU School of Dental Medicine. "It is a time to celebrate our rich tradition of research, scholarly activity and the publication of articles, books, book chapters and knowledge that contribute to the advancement of our profession."
Those honored from the dental school include Dr. Gabriel Abuna; Dr. Hanan Elgendy, who was awarded a medallion for authoring the book, "How to Draw Teeth and Why It Matters;" Dr. Andres Flores; Dr. Saulo Geraldeli; Dr. Alex Gillone; Dr. Roopwant Kaur; Dr. Paul Lindauer; Dr. Ramiro Murata; Dr. Vanessa Pardi and Ms. Rachel Stewart, dental hygienist.
The Friends of Laupus Library co-sponsored the event as part of its support for Laupus Library's special programs.
Laupus Director Beth Ketterman highlighted some of the notable publications in her address during the event.
"One of my favorites this year that is just about as mission-centric as you can get at ECU: an article from our School of Dental Medicine on, 'Community-academic partnerships to improve the oral health of underserved schoolchildren in rural North Carolina,'" she said. "Our authors advance basic science research, clinical practice and theory, pedagogy, and advances for the common good of society in all of their fields through their dedication to scholarship. As library director, an ECU health sciences employee, and a citizen of eastern North Carolina I have to say that I am so proud to work alongside our faculty researchers who are making such a positive contribution to the health and well-being of our community."