SoDM Day of Unity
The ECU School of Dental Medicine will celebrate a Day of Unity on Friday, May 14, to honor the differences among people and to encourage dialogue on diversity and racism.
The Day of Unity is sponsored by the SoDM's chapter of the Student National Dental Association, an organization whose mission is to promote, aid and support students' academic and social environments. The group created the Day of Unity to benefit not only the SoDM family, but also the larger community.
A cornerstone of the event is a T-shirt sale—which has already kicked off—that will raise funds for the school's SNDA chapter and the Community Crossroads Center in Greenville, which serves the homeless and those at risk of homelessness by providing safe housing and assisting them in developing a long-term plan for self-sufficiency. The shirt features a unique design that promotes celebrating cultural and personal differences while pointing out that everyone shares the bond of being human.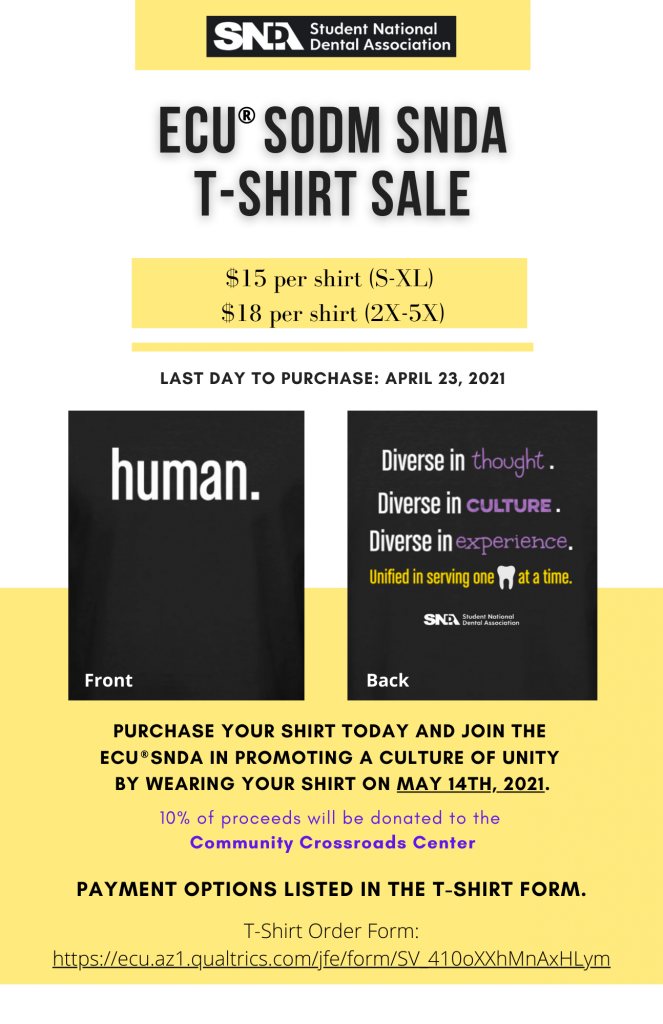 The SNDA and event committee encourage those who purchase shirts to wear them on May 14 as a symbol of unity.
There will also be a virtual Lunch and Learn at noon that day, featuring Dr. Cedric Bright, interim associate dean for diversity and inclusion at the Brody School of Medicine.
Event organizers wanted to plan an event that would not only serve as a fundraiser but would also begin a tradition of conversations on diversity, equity and inclusion while offering the shirts as a tangible reminder of what it means to stand up against racism.
Recently, SNDA chapter vice president Courtney Williams was reflecting on how dental school has changed during the COVID-19 pandemic—from academic and daily life to social issues across the country.
"What used to be a long day in the classroom turned into a long day at the dinner table," she said. "What used to be a weekend out with friends turned into virtual girls' night in. What used to be microaggressions turned into blatant acts of racism. America has changed due to the pandemic and racial issues. The impact of COVID-19 will forever be imprinted in our nation's history."
Williams said the idea for Day of Unity stemmed from those realizations.
"This past summer has shown us that we can no longer turn a blind eye to the issues affecting people of color, but must address this issue head on," she said. "Instead of avoiding diversity, on this day we plan on accepting and embracing our differences. This approach to diversity will help the SoDM community better serve our patients by learning to conquer our conscious and unconscious biases one tooth at a time."
The Day of Unity and the T-shirt sale are meant to raise more than funds—they are also designed to increase awareness of today's issues.
"Whether individuals have read about it online, participated in the Day of Unity, or saw the shirt's messaging, we anticipate that our efforts will at least raise questions and ultimately pique interest," said Quain Morales, president of the dental school's Class of 2024. "The importance of this event and the significance of the messaging is to raise awareness that racism is undoubtedly a public health crisis that requires mobilization."
The SNDA's goal is to amplify that awareness and tackle health disparities by not only advocating for diversity but by also illuminating the necessity for unity when attempting to accomplish that feat. The messaging on the shirt highlights our unified effort to make this change a future reality, Morales added.
The group's efforts will also benefit Greenville's Community Crossroads Center, a community partnership that developed after the dental students visited the center during a tour of Greenville as part of orientation, to view neighborhoods, landmarks and organizations in the community.
"It is near and dear to our hearts as ECU dental students," said second-year dental student Fiondra Baldwin, who serves as SNDA chapter treasurer. "Their mission is to serve the homeless population by providing safe housing while helping each individual create a long-term plan to be self-sufficient. This mission spoke volumes to us and shows how CCC genuinely cares for the community. Being able to help those in need, especially during these times, is one of the most critical tasks that we could take on."
COVID-19's mortality rates shed a light on the devasting effects for people of color who face difficulty receiving proper health care, Williams said.
"The messaging on the T-shirts serves as a reminder of our oath to serve the underserved," Williams said. "SNDA is instrumental in advocating for diversity, equity and inclusion in the health force. By declaring the ECU SoDM Day of Unity, we will be intentional by our efforts and not just our words."
"The ECU SoDM chapter of SNDA also has a tradition of doing a chili fundraiser and candy grams during February for Valentine's Day," said first-year student Brianna Horne. "To circumvent COVID restrictions, we decided that the creation of these shirts would allow us to not only bring awareness to pertinent social issues but also to fund future outreach projects that will in tandem impact underserved students and advocate for underserved populations."
Through the multi-faceted goals of the Day of Unity, the students hope to observe a day that is both meaningful and memorable for the SoDM community and beyond.
"It is important to us as students that ECU SoDM sets an example on campus and beyond in honoring diversity and pursuing equity and inclusion for all because representation matters," Baldwin said. "Being able to foster a culture of unity amongst students by celebrating diversity allows everyone to strive for a brighter future while feeling a sense of hope and confidence."
T-shirts can be purchased through April 23 at https://ecu.az1.qualtrics.com/jfe/form/SV_410oXXhMnAxHLym.