Michael D. Webb, DDS, MEd, contributes to book that helps students, residents and faculty prepare for exams and certification
Michael D. Webb, DDS, MEd, chair and clinical associate professor in the Department of Pediatric Dentistry, Orthodontics and Dentofacial Orthopedics, has co-authored the chapter "Behavior Guidance and Medical Emergencies" in Clinical Cases in Pediatric Dentistry 2nd Edition.
The book offers a wealth of real-world clinical cases in pediatric dentistry as a comprehensive resource for pre-clinical dental students, post graduate residents and pediatric dentists preparing for board examinations and recertification.
In chapter 6, Webb and co-author Amr Moursi, DDS, PhD, professor and chair of the Department of Pediatric Dentistry at New York University College of Dentistry, offer case histories, diagnostics, treatment plans and self-study questions for seven specific pediatric dental cases.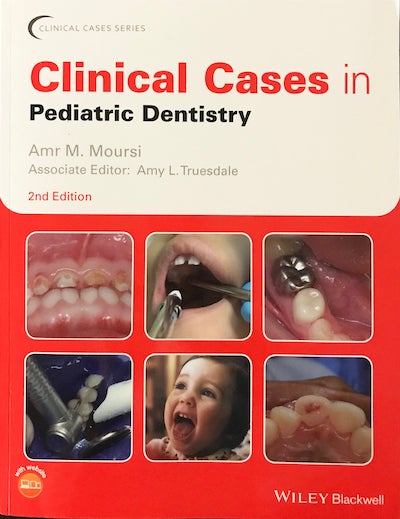 Webb and Moursi's cases examine nonpharmacological behavior guidance, intraoperative pain management, nitrous oxide, pharmacological behavior guidance, airway management, allergic reactions, and general anesthesia.
"The case-based nature of the book can help students apply basic and clinical science to real life scenarios," said Webb. "It can also help residents prepare for the Oral Clinical Examination of the American Board of Pediatric Dentistry."
Michael Webb received his dental degree from Northwestern University and completed a three-year residency in pediatric dentistry at Children's Hospital of Pittsburgh and a residency in dental anesthesiology at the University of Pittsburgh School of Dental Medicine. In addition to his clinical training, Webb has a certificate in health care administration and a master's degree in education with a concentration in adult learning.
After residency training, Webb was the chief of dental services at Children's Medical Center of Dallas and the graduate program director in pediatric dentistry at the Baylor College of Dentistry. He was an attending pediatric dentist/dental anesthesiologist at Children's Medical Center and Texas Scottish Rite Hospital before moving to Richmond, VA, to be the graduate program director in pediatric dentistry at Virginia Commonwealth University.
Webb maintained a private practice of pediatric dentistry that focused on the use of sedation and general anesthesia in pediatric dentistry before returning to academics at ECU in 2014 to develop the pediatric dentistry residency program. He is also a certified emergency medical technician (EMT) – intermediate.