Research event highlights pulpal regeneration and showcases student work
 Is it possible that root canals could soon become a thing of the past? It's quite likely according to Kenneth Hargreaves, DDS, PhD, professor and chair of the Department of Endodontics, UT Health, San Antonio, Texas.
Dr. Hargreaves' presentation "Regeneration Endodontics: From Stem Cells to Biologically Based Endodontic Procedures" resonated with faculty, residents, students, and staff attending the School of Dental Medicine's annual Celebration of Research and Scholarship on August 23.
Hargreaves, a longtime endodontist and researcher, explained the steps involved in contemporary regenerative endodontic procedures designed to replace damaged tooth structures and promote healing within the tooth.
"Although much remains to be done to advance this field, progress has been made in clinical regenerative endodontic procedures, literally saving teeth by regenerating a functional pulp-dentin complex," Hargreaves said.
Hargreaves, who also maintains a private endodontics practice, has received numerous national awards for his research and has published more than 160 articles, two textbooks, and serves as editor of the Journal of Endodontics.
Dr. Jay Golden, ECU vice chancellor for research, economic development and engagement; Dr. Greg Chadwick, dean of the School of Dental Medicine; and Dr. Sharon Gordon, the school's associate dean for research, welcomed the faculty, staff, residents, and students seated in Ross Hall as well as those at Community Service Learning Centers across the state via teleconference.
Dr. Golden outlined ECU's plans to double its research expenditures over the next five years. He said interdisciplinary research will be at the forefront. The university will form eight core research clusters bringing faculty and students together from across the campus. Researchers must work together "to provide the next generation of strategies to reduce chronic disease," said Golden.
The annual celebration calls attention to the school's research agenda and gives predoctoral students and their faculty mentors a forum for showcasing research with the potential to improve oral health.
Following the keynote address, Dr. V. Wallace McCarlie, clinical assistant professor in the Division of Orthodontics and advisor to the school's Student Research Group recognized the winners of the day's poster competition. Winners were selected by a panel of faculty and will represent the school at national conferences over the next year.
Third-year student Luke Current received the American Dental Association/Dentsply Sirona Clinical Research Program Award. Luke will be competing at the dental student research competition known as "SCADA" at the upcoming American Association of Dental Research (AADR) meeting in Ft. Lauderdale, Florida, in 2018.
Third-year student Matthew Moore presented "Childhood Dental Caries Assessment: A Cross Sectional Study Comparing dmft Index of Fluoridated and Non-Fluoridated Counties in North Carolina." Matthew will participate in the Hinman Student Research Symposium, a student-focused national meeting featuring presentations by students and graduate trainees from dental schools across North America.
First-year student Kayla Locklear presented "Geofencing: Mobile Technology as a Health Promotion Tool to Raise Awareness of a Dental Clinic in Rural North Carolina." She will participate in the American Association of Dental Research (AADR) meeting in Ft. Lauderdale, Florida.
First-year student James Parker, Jr. presented "Antifungal Effect of Capric Acid Against Candida Albicans in Vitro." James will compete at the SCADA competition during the American Dental Association Annual Meeting in Washington, D.C., in 2019.
First-year student Bryan Yang presented "Antimicrobial Activity of Honokiol Against Periodontal Pathogen Aggregatibacter actinomycetemcomitans: An In Vitro Study." He will participate in the American Dental Association Foundation Colgate Dental Students' Conference on Research sponsored by the American Dental Association in Gaithersburg, Maryland.
First-year student Tashana Detwiler presented "Prevalence of Elevated Blood Pressure Among Emergency Adult Dental Patients Presenting to an Emergency Dental Clinic." She will participate in the American Association of Dental Research (AADR) meeting in Ft. Lauderdale, Florida.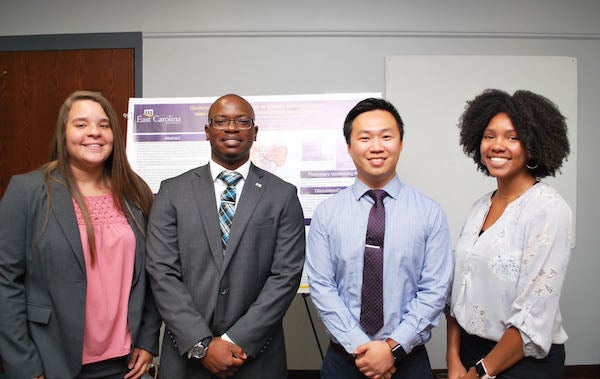 First year students (left to right) Kayla Locklear; James Parker, Jr.; Bryan Yang; and Tashana Detwiler will represent the school at national conferences.
Posters presentations at the Celebration of Research and Scholarship included the following:
Developing a Pre-Clinical Mouse Model of HPV-driven Oral Cancer
A.L. Amelio, M.B. Carper, S. Troutman, K.M. Byrd, E.C. Henry, S.A. Montgomery, S. E. Williams, J. Kissil
The Detrimental Manifestations Surrounding Betel Quid Use:  A Narrative Review
Bryant, E. Qureshi, K. Weiss, A. Hasan
Effects of Expanding the Implementation of the Prenatal Oral Health Program
Davis, L. Karan, G. Crain, K. Gise, S. Smith, R. Spain
Prevalence of Elevated Blood Pressure Among Emergency Adult Dental Patients Presenting to an Emergency Dental Clinic
Detwiler, K. Gise
Risk Factors for Dental Outpatient Anesthesia and Sedation Procedures Derived from Deaths Reported in the Public Domain
R.A. Dionne
Antifungal Properties of Berberine Chloride on Various Species of Candida in vitro
Hasan, J.R. Parker, B. Yang, J. Cope Meyers, L. Ferreira, M. Murata
Geofencing:  Mobile Technology as a Health Promotion Tool to Raise Awareness of a Dental Clinic in Rural North Carolina
B.K. Locklear, A.  Rafferty, M. Tucker-McLaughlin, Winterbauer, W. Wright
Oral Health Literacy Correlated with Oral Health Status in Eastern North Carolina
V.W. McCarlie, S.V. Dave, C. Kennedy, L. Karan, V. Nguyen, E.C. Mehaffey, M.I. Baltar Rego, G.J. Eckert*, K.T. Stewart*
Antifungal Effect of Capric Acid Against Candida Albicans in vitro
J.R. Parker Jr., D. Hasan, L.E.N. Ferreira, J. Cope Meyers, R.M. Murata
Childhood Dental Caries Assessment: A Cross Sectional Study Comparing dmft Index of Fluoridated and Non-Fluoridated Counties in NC
M.I. Rego, A.C. Green, M.R. Moore, P.M. Kriska, E.B.W. Maltba, G. A. Camargo I. Hasan, R. Murata,
Matrix and Cell-Based Study of the Effect of Dietary Fruit Extracts on Bone Healing In Vivo
A.G. Robinson, J.M. Souza, Jr, S.A. Tuin, J.G.O. de Souza, M.A. Bianchini, P.A. Miquez
Antimicrobial Activity of Honokiol Against Periodontal Pathogen Aggregatibacter actinomycetemcomitans: An In Vitro Study