Celebration of Research and Scholarship (CORAS 2023)
The ECU School of Dental Medicine (SoDM) will be hosting its eighth annual Celebration of Research and Scholarship (CORAS) on Wednesday, February 8, 2023 from 8 AM – noon. This will be a live (in-person) event at Ross Hall and involving our Community Service Learning Centers (CSLCs).
The live video stream of the 2023 CORAS event will be available the day of the using this link: https://ecu.webex.com/ecu/j.php?MTID=m198ae90930193ae312ee735100e83457.
CORAS 2023 Schedule
8:00 am – Welcome and Introductions
Dr. Greg Chadwick, Dean
ECU School of Dental Medicine
Dr. Mary Farwell, Assistant Vice Chancellor for Research Development
Division of Research, Economic Development, and Engagement
Dr. David Paquette, Interim Associate Dean for Research
ECU School of Dental Medicine
8:15 am – Poster Presentations
9:00 am – Oral Presentations
Ross Hall 2303, 2305, 2307, and 2309
10:15 am – Remarks and Introductions
Dr. Ramiro Murata, Assistant Professor
Department of Foundational Sciences
ECU School of Dental Medicine
10:30 am – Remarks and Introductions
Dr. Patricia Diaz, Professor of Empire Innovation
Director, UB Microbiome Center
University at Buffalo School of Dental Medicine
11:40 am – Awards
Dr. Ramiro Murata
Student Research Group Faculty Advisor
ECU School of Dental Medicine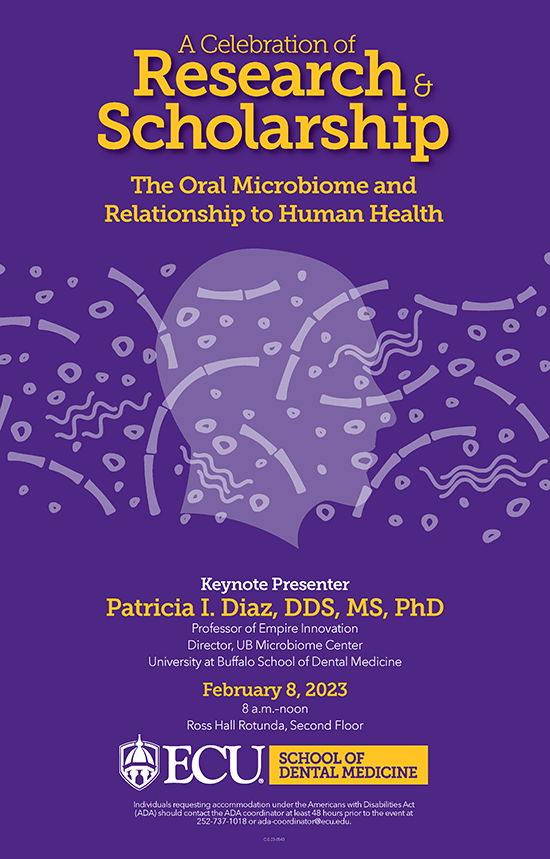 ---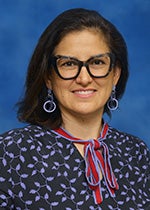 Dr. Patricia Diaz is appointed Professor of Empire Innovation in the Department of Oral Biology of the School of Dental Medicine and Director of the UB Microbiome Center at the University at Buffalo. Dr. Diaz received her dental degree (DDS equivalent) at CES University in Colombia and her PhD in Microbiology at the University of Adelaide, Australia. She then completed a postdoctoral fellowship in oral microbiology at the NIDCR/NIH and went on to earn her Certificate in Periodontology and Masters in Oral Science at the University of North Carolina at Chapel Hill. Dr. Diaz is board-certified by the American Academy of Periodontology (AAP) and has received numerous awards including the Educator Scholarship and Tarrson Fellowship from the AAP Foundation. Dr. Diaz's research activities have been funded by the NIH and industry. Her laboratory studies the ecology of oral microbiome communities and microbiome-host interactions in health and disease utilizing an integrative approach that couples clinical studies, animal models, high throughput assays, and bioinformatics. She has led pioneering studies to define the ecological drivers and pathological consequences of dysbiotic shifts in the oral microbiome. Her work has led to a better understanding of the role of the microbiome in periodontitis, peri-implant inflammation, and in oral comorbidities of cancer treatment such as oral mucositis and candidiasis. Dr. Diaz has mentored more than 30 students, including postdoctoral fellows, graduate students, and undergraduates. Several of her mentees have received prestigious awards with five of her former trainees currently employed as full-time faculty in a dental school.
---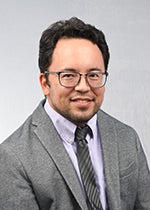 Dr. Ramiro Murata is an Assistant Professor of Microbiology in the Department of Foundational Science at ECU School of Dental Medicine. He is also affiliated with Department of Microbiology & Immunology and Department of Pharmacology & Toxicology at ECU Brody School of Medicine. Dr. Murata received a DDS, MS, and PhD (Pharmacology/Microbiology) from The State University of Campinas. In addition, he completed a postdoctoral fellowship in Mycology and Virology at New York University, College of Dentistry. He previously held academic positions at University of Southern California and New York University. He has published over 50 peer reviewed manuscripts and received numerous awards including ECU Research and Creative Activity Award and ECU Outstanding Research Scholars. Dr. Murata is a member of ADEA, American Society of Microbiology, IADR and served as Treasurer, Chair, Counselor and President of AADOCR PTT Scientific Group. For the past 12 years, Dr. Murata has maintained an active research program funded through NIH and state sources. Dr. Murata's primary research interest is to understand how the human oral microbiome interacts with its host. Specifically, he focuses on understanding how the oral mycobiota (Candida spp.) modulates host susceptibility to viral infections. Dr. Murata has mentored several students, including postdoctoral fellows, graduate students, DMD students and undergraduates from US, Brazil, Mexico, Egypt, India, Nigeria, China, and Bolivia.
---
Basic Science
Poster #1
Tumor-Associated Inflammatory Cells and Immune Checkpoint Inhibitors Expression in Oral Mucosal Premalignant Lesions
Flores-Hidalgo A, Aly FA, Steward-Tharp S, Padilla RJ
Poster #2
The Role of a Viral Protein in Covid-19 Blood Clotting
Luckett D, Fuentes-Rivera N, Wright R, Anderson E
Poster #3
Oral Microbiome Analysis after Resveratrol Treatment for Dental Caries
Navas Reis F, Afonso Rabelo Buzalaf M, Murata R
Poster #4
Protective Arm of Renin-Angiotensin System Is Compromised in High Blood Pressure – A Closer Look at Long-term Control of Hypertension
Swami Vetha B, Byrum R, Azeez Aileru A
Poster #5
What Is the Myocardial Implication in RAAS-regulated Hypertension? – A Closer Look at the NKA, NCX and Ca2+ Reuptake Machinery in the Left Ventricular Myocytes
Byrum R, Swami Vetha B, Aileru A
Poster #6
Crosstalk between the Rho and Rab family of small GTPases in neurodegenerative disorders
Nik Akhtar S, Bunner W, Brennan E, Lu Q, Szatmari E
Poster #7
Behavioral and transcriptome profiling of heterozygous Rab10 knockout mice
Bunner W, Wang J, Cohen S, Bashtovyy D, Tran T, Yasuda R, Szatmari E
Poster #8
Syzygium aromaticum Essential Oil and Its Major Constituent's Antifungal Activity
Guimaraes Silva Vasconcelos, P, Abuna G, Melo de Brito Costa EM Murata R
Poster #9
Assessment of the Antifungal Activity of Geraniol, Citronellal, and Linalool
Lee K, Guimaraes Silva Vasconcelos P, Abuna G, Melo de Brito Costa E, Murata R
Clinical Research
Poster #10
Determine Accuracy of Implant Treatment Planning with CBCT
Jolicoeur H, Camargo G, Stephenson T, Zhang W
Poster #11
Pregnant Women's Oral Health as a Predictor of Cardiometabolic Disease during Pregnancy
Pendry E, Pasetto S, Murata R, May L, Pardi V
Poster #12
Retrospective Analysis of Perforations Occurring During Endodontic Treatment: Incidence and Outcomes
Vyas R, Williams B, Schnoor Z, Lindauer P
Poster #13
Role of Hyaluronic Acid in the Treatment of Periodontitis as Seen through Clinical Trials
Ravindra S, Bloss J, Geraldeli S
Poster #14
SDF-treated Lesion Outcomes Among GA Waitlisted Pediatric Patients
Oxendine R, Kordis A, Carmargo G
Poster #15
The Dangers of Nitrous Oxide Administration in Patients with Cyanocobalamin (B12) Deficiency: A Systematic Review of Medical Literature
Thompson S
Poster #16
The Influence of Orthodontic Appliances on MRI of the Velopharynx
Pua Schleif E, McCarlie Jr V, Fang X, Briley P, Perry J
Poster #17
Post-insertion Complications of Digital Complete Denture Systems: A Literature Review
Senkumar L, Giugliano T, Choi M
Clinical Case Studies and Series
Poster #18
Functional and Esthetic Improvements of Class III Malocclusion Using Conservative Approaches. Case Report
Elgendy H, McCarlie WV
Poster #19
Management Of Compromised Inter-Tooth Space in The Esthetics Zone with Conservative Approach.
Vasa S, Abdelaal M, Elgendy H, Sheba M, Gillone A, Martinez Luna A
Poster #20
Use of Custom Anatomic Healing Abutments: A Case Report
Blackstock M, Sheba M, Elgendy H, Gillone A, Vidal A, Martinez Luna A
Poster #21
Sinus Floor Augmentation Using a Combination of Anorganic Bovine Bone with Demineralized Cortical Allograft Fibers or Granules: A Case Series.
Gillone A, Martinez Luna A, Paquette D
Dental and Biomaterials Research
Poster #22
Effect of H-10 on Dentin Bond Strength of Methacrylate-based adhesive
Gillespie S, Hampton J, Geraldeli S
Poster #23
Does the Localized Irradiance of Polywave LEDs Affect the Bonding Properties to Dentin?
Sutil E, Felipe Millan Cardenas A, Suelen Figuerêdo de Siqueira F, Henrique de Aguiar Moreira P, Guará K, Wenlinger Cantanhede Ferreira M, J Soares C, Reis A, Loguercio A, Geraldeli S
Poster #24
Covalent Conjugation of 2-Hydroxyethyl Methacrylate with Anti-Biofouling 2-Aminoimidazole Small Molecules
Hampton J, Allen W, Geraldeli S
Poster #25
Investigating the impact of flow rate on blood clot structure and mechanical properties
Sowers H, Hudson N, Vadati A
Community and Population Research
Poster #26
The Resounding effect of COVID-19 on Dental Utilization, Payer Type, and Prophylaxis Code Frequency
Van Gurp R, Moss M, Wu Q, Al-Dajani M
Poster #27
Knowledge That School Nurses Possess to Effectively Care for Traumatic Dental Injuries
Ferguson C, Webb M, Acosta-Rodriguez K, Moss
Poster #28
Impact of COVID-19 on Referral Outcomes at a Pediatric Dental Clinic in a Rural Academic Medical Center
Yang B, Camargo G, Acosta-Rodriguez K, Moss M, Webb M
Poster #29
Racial and Ethnic Disparities in Periodontal Health Not Related to Socioeconomic Status of Adults Seeking Dental Care
Gillone A, Martinez Luna A, Wu Q, Camargo G, Moss M, Murata R, Pardi V, Paquette D
Poster #30
Periodontal Health Status among Young Adults (ages 20-29) in an Academic Care Setting
Vidal A, Paquette D, Gillone A, Martinez Luna A, Moss M, Camargo G
Poster #31
Jones County School-Based Oral Health Prevention Program
Stewart R, Buck J, Pardi V, Webb M, Wright WG
Poster #32
Oral Health Knowledge and Attitudes of Chatham County Elementary Educators
Hartung L, Pardi V
Poster #33
Access to Dental Care of Patients with Special Needs in North Carolina
Moon S, Moss M
Poster #34
An Analysis of Special Needs Healthcare Coverage in Four Countries
Hartung L, Kurian T, Bui N, Moon S
Poster #35
Analyzing Patient Odds of Receiving Dental Care Based on Demographics
Everingham H
Poster #36
Parental Perception on Continuity of Care in a Pediatric Dental Setting
Stahley C, Ball R
Poster #37
Parental Awareness of the Importance of a Child's First Dental Visit
Savoy C, Ball R, Moss M, Acosta Rodriguez K
Scholarship of Teaching and Learning
Poster #38
Survey of Predoctoral Endodontic Programs' Root Canal Sealer Use
Schnoor Z, Lindauer P
Poster #39
Implementation and Development of Clinical Caries Risk Assessment and Management
Kaur R, Cook J, Bauza-Davila L, Moss, M
Poster #40
Survey of Predoctoral Dental Students Pre and Post Pediatric Dental Rotation: Assessment of Knowledge and Comfort in Treating Pediatric Patients
Howard E, Tucker N, Moss M, Acosta Rodriguez K
Poster #41
Improving Access to Care: The Lewis Collaborative in Pediatric Dentistry
Webb M, Moss M
Oral Presentations
To be offered between 9 – 10 am (repeated every 15 minutes)
Ross Hall 2303 (Poster #42)
The Need of Virtual Reality (VR) In Dental Education
Elgendy H, Sensi L, Aileru A, Abdelaal M, Sheba M, Martinez Luna A
Live video link available the day of event: https://ecu.webex.com/ecu/j.php?MTID=mca5af1fbac9f10177b92f3d17fae1f66
Ross Hall 2305 (Poster #43)
Different Candida-Host interactions in HIV Disease
Abuna G, Murata R
Live video link available the day of event: https://ecu.webex.com/ecu/j.php?MTID=m8a126166763defafcaafa529b25a6706
Ross Hall 2307 (Poster #44)
Correlation between Pre-Extraction Periodontal Status and Overdenture Peri-Implant Microbiome
Cui X, Martinez Luna A, Gillone A, Abdelaal M, Sheba M
Live video link available the day of event: https://ecu.webex.com/ecu/j.php?MTID=m4cda6dfca0a5132bdabfc19503b20c88
Ross Hall 2309 (Poster #45)
The Use of Artificial Intelligence in Implant Digital Workflows
Folk L, Wu Y, Gillone A, Martinez Luna A
Live video link available the day of event: https://ecu.webex.com/ecu/j.php?MTID=m44f6a466e31db80bd319d2ef44ddb7e4